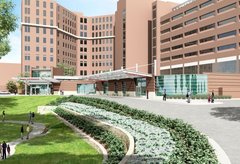 The Scope:
Granger Construction Company was given the task of building a new Main lobby, new Emergency Department, and new Clinical Decision Unit. The $24 million dollar project was completed through the hard work of 14 highly trained, skilled trades. Between 40 to 50 trades' people were on site each day, scaling the actual number of trades' people, daily, to the exact number needed to complete that day's work.
Special skills associated with healthcare construction required conforming with Interim Life Safety Measures, Infection Control Risk assessments, and project coordination in order to avoid interference with day-to-day hospital operations.
The Stats:
High tech project being done in an open hospital environment.
$24 million dollar Project.
Zero lost time accidents.
Completed On Time.
Completed On Budget.
The Added Value:
A Local workforce, keeping the payroll monies recycling within the community, benefiting the people in the community, and ensuring that the skilled Trades people continue to be a resource for our community.
A Highly trained, skilled workforce ensuring the highest quality work completed in the sensitive work environment of a healthcare facility.